PDF import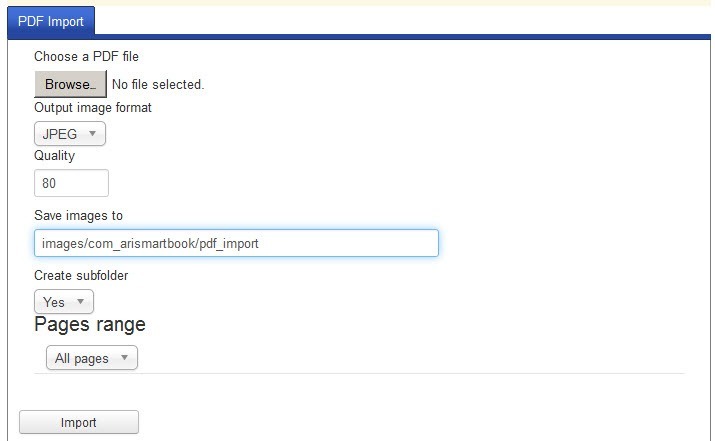 Use this section to convert PDF documents to images. The following parameters can be configured on the page:
Choose a PDF file

is used to select PDF file which will be converted to images. File name should contain only English characters, digits, spaces and underscores.

Output image format

the images will be saved in the selected format.

Quality

is used to set quality of created images. It is an integer number from 1 to 100.

Save images to

is used to specify path to folder where images will be saved.

Create subfolder

if the parameter is set to "Yes", subfolder with name like PDF file name will be created in folder which is specified in "Save images to" parameter.

Pages range

is used to specify pages which will be exported.

All pages

if this option is selected, all pages from PDF document will be exported.

Range

it is possible to specify start and end pages and only pages from the selected range will be exported.
Click "Import" button, when configure all parameter, to conver PDF document to images. If data is converted successfully, "Data from the file were imported successfully" message appears. Otherwise "Data were not imported" message appears, in this case check "Processing log" for more details.